Fat Bottom Girl
"Half Ass Acres Fat Bottom Girl"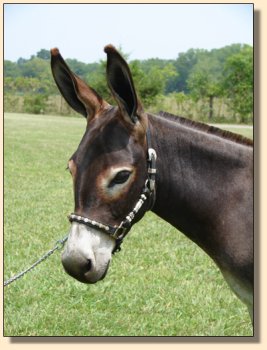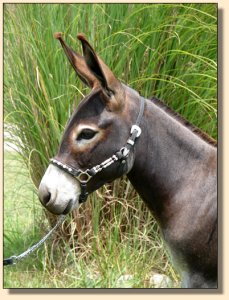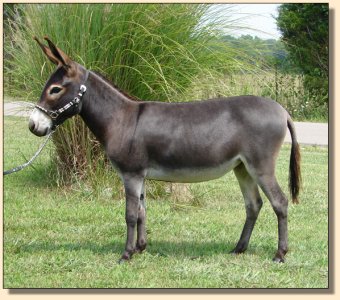 Baby Photos Below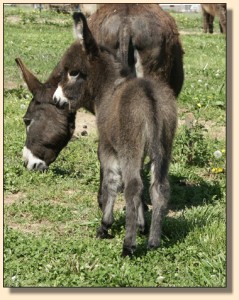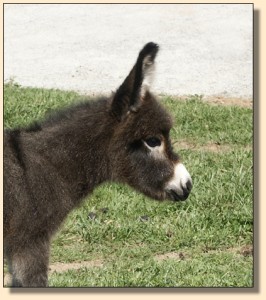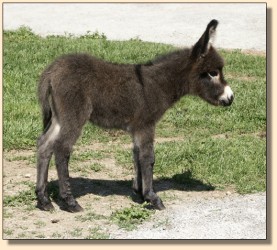 (Click photos to enlarge)
DOB 4/19/05 10:31am
Birth Height: 23½"
Height July 2006: 32"
Dark Brown Jennet
Microchip #470C24192C

Sire: PGF Peppercorn, 29½" Brown
Grand Sire: My World Buster, 30¼" Sorrel
Grand Dam: Pine Grove Farm's Rhubarb, 31½" Gray-Dun

Dam: Half Ass Acres Whoopi, 33¾" Black Jennet
Grand Sire: Rastus, 29" Black
Grand Dam: Ferncroft's Oda Maye, 35" Gray-Dun


Fattie has show quality conformation. She is wide, stout, and very correct!! Fattie has one of the best rear ends I have ever seen on a newborn. She also has a beautiful face with expressive eyes just like her mom. Fat Bottom Girl was born loving everyone.





Fattie was offered in
The Great American Donkey Sale
July 29, 2006, in Lebanon, Ohio

Click here for details!



Congratulations to
Little Bit of Heaven Farm
Jack & Sue Pentland
Royal Center, Indiana!!




Copyright © graphic designed by JKV Designs exclusively for Half Ass Acres!


Click here to return to our 'foal' page!
Click here to return to our 'jennets sold' page!

Click here to return to the 'brood jennet's' page!

Joe & Dayle Haworth
2359 Feed Mill Road
Chapel Hill, Tennessee 37034
Telephone: 931-364-3715
Fax: 931-364-3725

Web Page: http://www.miniaturedonkeys.net
Email: donkeys@miniaturedonkeys.net

Last Updated: July 30, 2006
Web Design by Dayle Haworth
Copyright © 1998-2010 ~ Half Ass Acres ~ All Rights Reserved