Purchase Your Miniature Donkeys Here!!
<! TableStart Key=HAADonkeyBanner> <! TableEnd Key=HAADonkeyBanner>
Click here for the Miniature Mediterranean Donkey breed Standard.




Halters for Sale!!!
We are selling top of the line Miniature Donkey Halters!
Click here to order yours now!




We accept PayPal payments!
* Fast, free, and secure online payments!!!! *

Click on this link: paypal.me/HalfAssAcres
to send a deposit to reserve your donkey now!
(3% will be added to the total if you are paying by Pay Pal)

If you see a donkey you like be sure to send us a deposit to hold it so you won't miss out! I cannot hold a donkey without a deposit. Sorry but too many broken promises in the past. Discounts given when purchasing more than one donkey. Donkeys are much happier when paired up.

All of our donkeys come with registration papers from The Miniature Donkey Registry (and if spotted will be double registered with The American Council of Spotted Asses, Inc.) a current negative coggins report, a health certificate if sold out of state, complete health records, a hard cover book including all records and 8 x 10 color photographs, small left and right photos for registration transfer or update if needed, a personalized dvd with all high resolution photos and videos taken of your donkey, an exclusive Half Ass Acres T-shirt (not available anywhere else), a 2016 Donkey Calendar, and a brand new halter and lead rope.

All of our donkeys are vaccinated against the following: West Nile, Rabies, Eastern/Western Encephalomyelitis, Tetanus, Rhino and Influenza. All of our adult donkeys are also vaccinated against Botulism. We do offer significant discounts on package deals or if you have previously purchased a donkey from us. All of our donkeys comply with the new Miniature Donkey Registry rules by being microchipped.

We have almost accomplished our goal of reducing our herd to only 30 donkeys. We now have 30 miniature donkeys, 1 large standard gelding and 1 mammoth jennet. We have 3 jacks, 17 jennets, 6 geldings, 1 mammoth jennet and 1 large standard gelding plus 2 pet jennets that are not suitable for breeding.

All of our photos are clickable to enlarge!


E-mail Us!
Ch Ch Changes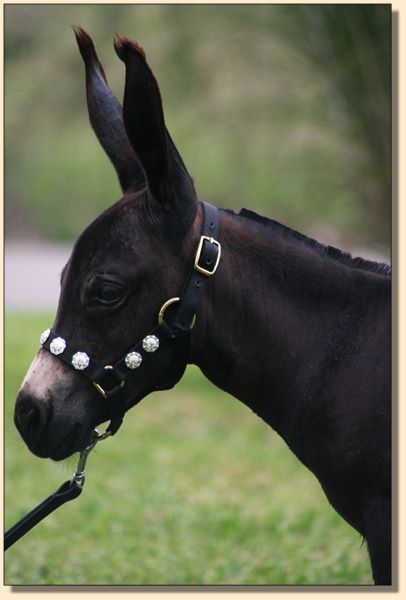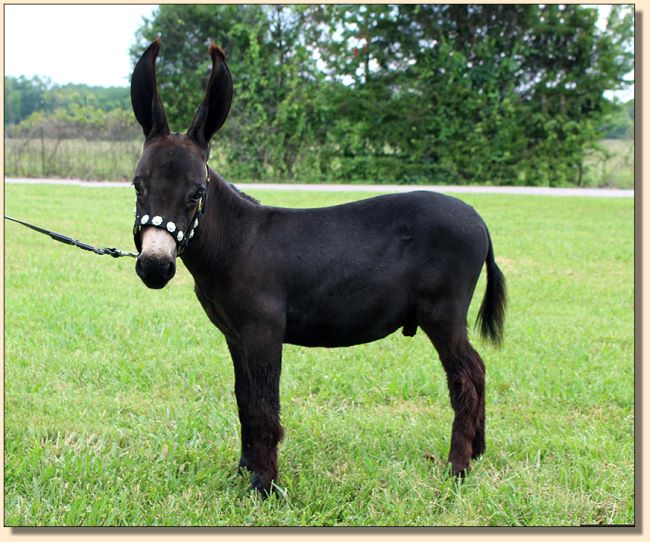 Photos above taken on 7/19/2016

Newborn photos below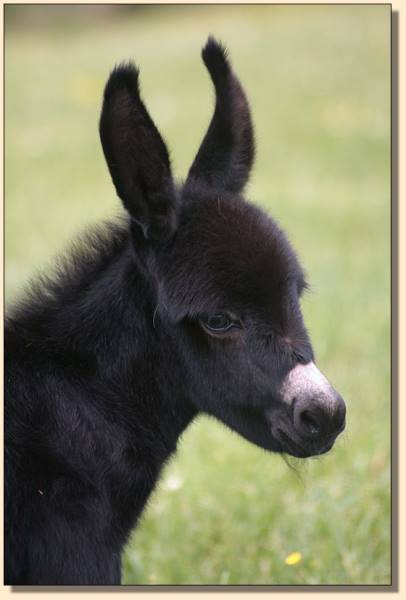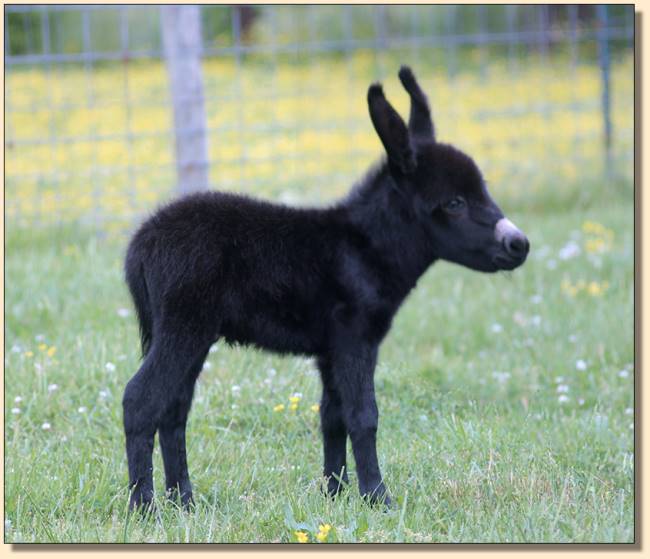 (Click photos to enlarge)
Black Jack w/Blue/Gray Eyes
DOB 5/01/16 @ 2:54am
Birth Height: 20" ~ Birth Weight: 21.6 lbs
MDR #Pending
Microchip ID#on file


Sire: HHAA Black 'n' Blue (Bruise), 30½" Black w/Cross
Grand Sire: Itsy Bitsy Front and Center, 31" Black w/Star
Grand Dam: Sunset Acres Junebug, 32½" Black NLP

Dam: HHAA Ch Ching, 32¼" Dark Spotted
Grand Sire: PGF Peppercorn Jack, 30½" Brown
Grand Dam: Windcrest Little Sierra, 33" Black/Roan & White Spot

Click MDR sticker to see Change's complete pedigree!

We think Ch Changes is pretty special so we are offering him as a future herd sire for some lucky farm. He will be up to date on all vaccinations including West Nile and Rabies, de-worming and hoof trims before he leaves our farm. We will also start his training on our in-hand obstacle course. He has everything you could want in a jack: balanced conformation, eye-catching color, a four-generation pedigree with no duplicates or unknowns and a dispostion that makes everyone fall in love.

New video and photos were taken on July 19th, 2016. He just keeps getting better and better!



Price $4500



Change at two and a half months of age.
Change's first day outside!
Close-up Birth Video by Half Ass Acres
Marestare Birth Video by WyCheri
Designer Donkeys' Posy
(Photos Coming Soon!)
Red Jennet (will measure soon)
DOB 6/07/11
MDR #62355
Microchip ID# on file



Sire: Designer Donkeys' Sundance, 34½" Dark Red
Grand Sire: Circle C Obsession, 32½" Black w/Cross
Grand Dam: McGee's Lonesome Dove Peach 31 ½" Dark Red

Dam: LN Half Ass Acres Pink Bouquet, 33½" Light Red (Pink)
Grand Sire: LN Red Glo, 31½" Red Chestnut
Grand Dam: LN Bride's Boquet, 30½" Gray-Dun



Posy is bred for an August foal. She was pasture exposed from June 1st to August 29th, 2015, to Circle C Victory, a 29 ¾" black jack who was the 2005 Nationals Reserve Champion Jack. Victory was sired by Future Link. Her last foal, HG Donkeys Phinnigin, was born on 2014/12/3. Phinnigin is doing very well in the showring. Posy and her foal will be offered for sale together after her baby has been born.

You can see Posy now on our barn cam. We will be taking updated photos and videos of her soon.

All reference photos are compliments of The Lazy N Ranch in Iowa, Circle C Ranch in Canada and HG Donkeys in Texas..

Click MDR sticker to see Posy's complete pedigree!

Posy is the dam of the following foals that we are aware of:

1) HG Donkeys Phinnigin, 12/03/2014, brown jack.

2) Should be born in August, 2016!


Posy's bag & teats 2016
Posey has not started 'bagging up' as of this date. So our educated guess is that she is due in August.




Price $TBA after her foal is born



~ The donkeys below this point have been sold.........
sorry you missed out. We are expecting two more foals this year. ~
HHAA Hissy Fit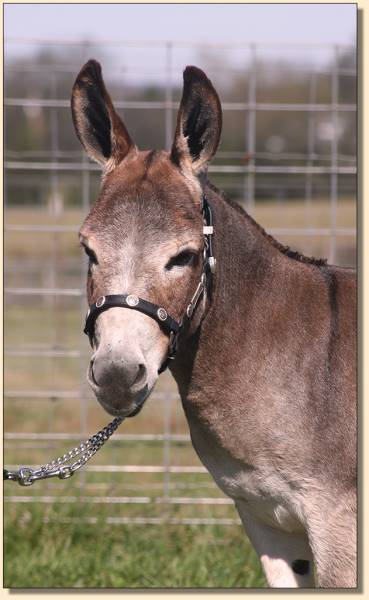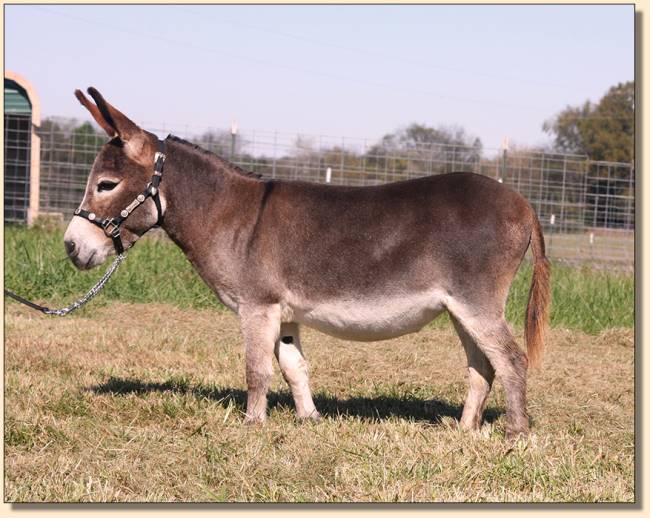 (Click photo to enlarge)






30 ¼" Very Dark Vivid Red Jennet w/Faint Star
DOB 6/05/09 @ 9:11 am
Birth Height: 20¼" ~ Birth Weight: 21 lbs
MDR Registration #57874
Microchip ID#on file


Sire: Windcrest Firefly, 30 ½" Dark Red w/Star
Grand Sire: MGF Fiftyfire, 31 ½" Dark Red
Grand Dam: Windcrest Pinkee, 32" Red

Dam: Ass-Pirin Acres Felina, 31 ½" Dark Red
Grand Sire: Arbor Ledge Little Red, 31 ½" Red
Grand Dam: Shawmar's Fatima of Ass-Pirin Acres, 32 ¼" Dark Red

Click MDR sticker to see Hissy's complete pedigree!

Our foaling season this year has been awesome. With each birth we seem to have been blessed with unique and absolutely gorgeous foals.

This is Felina's second baby, her first, Radiance, is now a Herd Sire in Arizona. Hissy looks exactly like her brother, Ray, except she only has a few tiny hairs for a star and Ray has a large star. In fact, she looks so much like him that we would have named her Red Ray if we had not already used that name.

On June 5th, 2009, Felina started the day out as if she was in early labor and was placed in a stall. That did not make her happy so as she continued showing more and more signs of labor we moved her to the birthing stall. She paced, and paced, and was very agitated to be so confined. We were unable to put her buddy in the next stall because we had filled that stall with hay a few days before. I went in her stall to sit with her and if I tried to leave she threw a fit. Those watching on Mare Stare were talking about how unhappy she seemed to be and wondered what was taking place. One person sent me this text message, "Felina is so spoiled, she even has to have her mom in the delivery room with her.What a hissy fit she is throwing!" That is when we knew what we would name this precious new baby.

New photos and videos were taken on October 30th, 2015. Thank you to Katie Randall for her expert handling of Hissy Fit during her photo shoot. Without Katie's help these photos would not have been possible. Hissy Fit is up to date on all vaccinations including West Nile, Rabies and Botulism. She has a negative coggins report dated 12/16/16.

We have been unsuccessful in getting Hissy Fit to settle in foal. We had her sold and our customers chose another donkey instead so Hissy is back on the for sale page. Until she is sold we are going to continue to try to get her in foal. If we do settle her in foal her price will go way up as she is one fantastic jennet in conformation, color and personality.

Click here to see Hissy Fit's baby photos!




Headed to New Mexaco!!



We accept PayPal payments!
* Fast, free, and secure online payments!!!! *

Click on the 'PayPal' image to send us
a deposit to reserve your donkey now!
(3% will be added to the total if you are paying by Pay Pal)
*If you send us a payment through PayPal, use
our e-mail address of:
minidonks@united.net


Susan Watson at Tennessee Crossroads meets a Chapel
Hill couple whose farm is filled with diminutive donkeys.






Joe & Dayle Haworth
2359 Feedmill Road
Chapel Hill, Tennessee   37034
Barn Phone: 931-364-3715
Cell Phone: 615-504-4536

Web Page: http://www.miniaturedonkeys.net
Email:   minidonks@united.net


E-Mail Us About Miniature Donkeys


You are on our 'Donkeys For Sale' page now!
Last Updated July 23rd, 2016
Web Design by Dayle Haworth
Copyright © 1995-2020 ~ HAA Miniature Donkeys ~ All Rights Reserved