Purchase Your Miniature Donkeys Here!!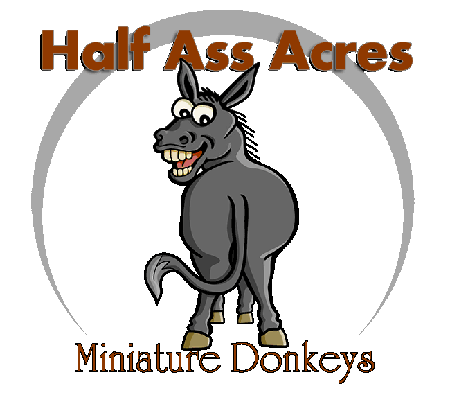 <! TableStart Key=HAADonkeyBanner><! TableEnd Key=HAADonkeyBanner>


Like Us

On Facebook!

If you see a donkey you like be sure to send us a deposit to hold it so you won't miss out! I cannot hold a donkey without a deposit. Sorry but too many broken promises in the past. Discounts given when purchasing more than one donkey. Donkeys are much happier when paired up.

All of our donkeys come with registration papers from The Miniature Donkey Registry (and if spotted will be double registered with The American Council of Spotted Asses, Inc.) a current negative coggins report, a health certificate if sold out of state, complete health records, a hard cover book including all records and 8 x 10 color photographs, small left and right photos for registration transfer or update if needed, a personalized dvd with all high resolution photos and videos taken of your donkey, an exclusive Half Ass Acres T-shirt and ball cap (not available anywhere else), a 2017 Donkey Calendar, and a brand new halter and lead rope.

All of our donkeys are vaccinated against the following: West Nile, Rabies, Eastern/Western Encephalomyelitis, Tetanus, Rhino and Influenza. All of our adult donkeys are also vaccinated against Botulism. We do offer significant discounts on package deals or if you have previously purchased a donkey from us. All of our donkeys comply with the new Miniature Donkey Registry rules by being microchipped.



All of our photos are clickable to enlarge!


E-mail Us!
All of our proceeds will be applied towards Katie's dream horse or our new indoor arena that is in process now. It turned out to be a lot more expensive than we were expecting. We have three more foals due this year with the next foal being due in August. All of our 2017 foals born so far have been sold except for the two jennets we are retaining for our future brood jennet herd. Contact us for more details or visit our 'Jennets in Foal This Year' page. We have them lined up from top to bottom in the order we expect them to foal.

You are welcome to visit anytime if you want to see any of these donkeys before we post them to our for sale page. (615-504-4536) or e-mail (minidonks@united.net) for an appointment.


Click here for the Miniature
Mediterranean Donkey Breed Standard.
Halters for Sale!!!
We are selling top of the line
Miniature Donkey Barn Halters!
Click here to order yours now!
We accept PayPal payments!
* Fast, free, and secure online payments!!!! *

Click on this link: paypal.me/HalfAssAcres
to send a deposit to reserve your donkey now!

Lazy J Cool Hand Luke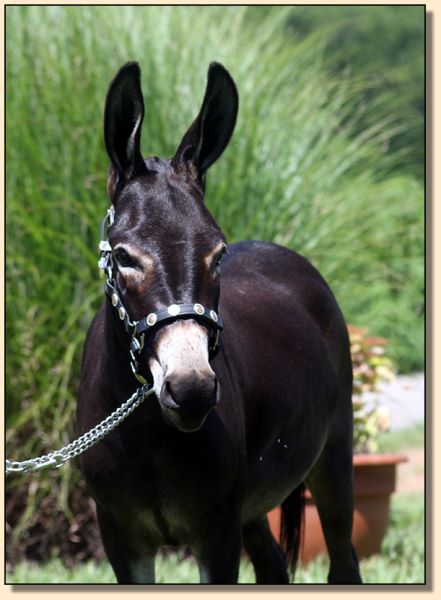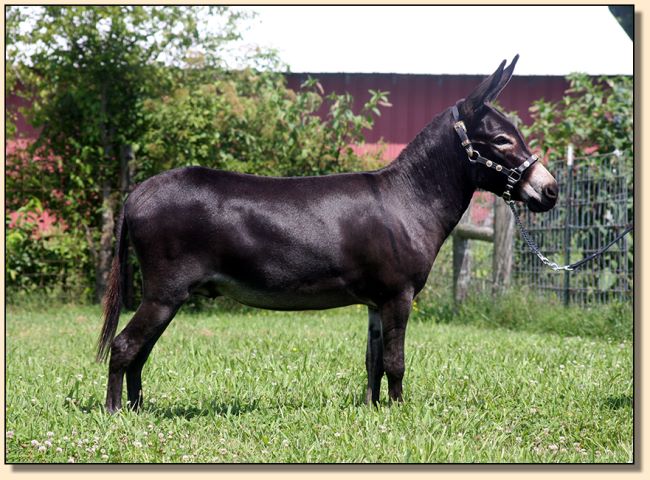 (Click photos to enlarge)


35 ½" Dark Brown Gelding
DOB: 5/13/15
MDR Registration #66908
Microchip ID#on file


Sire: Circle Z Shadow, 32½" Dark Brown
Grand Sire: Circle C Main Event, 32½" Black w/Star
Grand Dam: Quarter Moon Annabelle, Dark Brown

Dam: Lazy J Sophie, 34½" Brown
Grand Sire: Ozark Lil Tropper, 32½" Gray-Dun
Grand Dam: Rolling R Abra, 33" Gray-Dun

Click the MDR sticker to see Luke's complete pedigree.

Luke is just as his name implies....cool as can be....nothing rattles him. He just turned two and he has been started by David Sessum with in-hand trail work. He has been shown at several shows and placed very well in halter and performance classes. He has the makings to be an outstanding show donkey. He is very, very sweet and friendly. He is up to date on all vaccinations including West Nile and Rabies and all other required vaccinations. He has a current negative coggins report. Our equine dentist, Scotty NeSmith, floated Luke's teeth on 8/19/17. He also removed his wolfe teeth and put a bit seat in his mouth so he is ready to start his driving training.




Price $1500
Layaway payments are accepted.





The Donkeys Below This Point Have Been Sold...
...so sorry you missed out but more listed above!

Think Tank
Videos & photos taken of Tank
body clipped on August 6th, 2017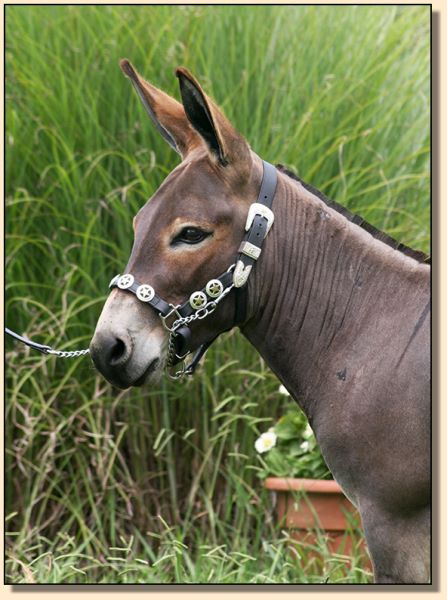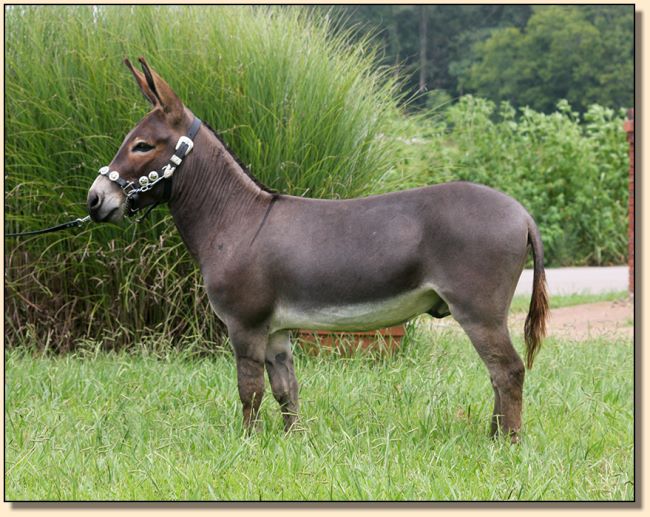 (Click photos to enlarge)




Videos & photos taken of Tank in his
natural coat unclipped on June 7th, 2017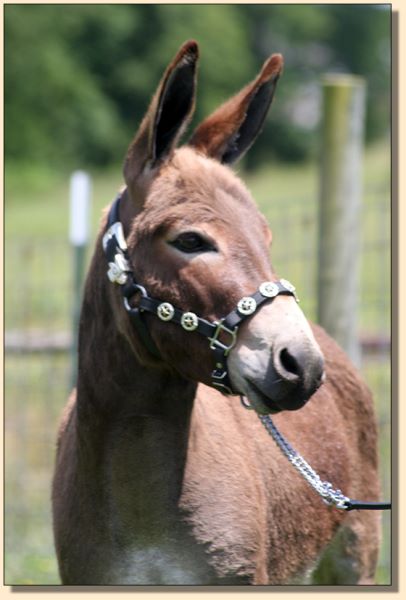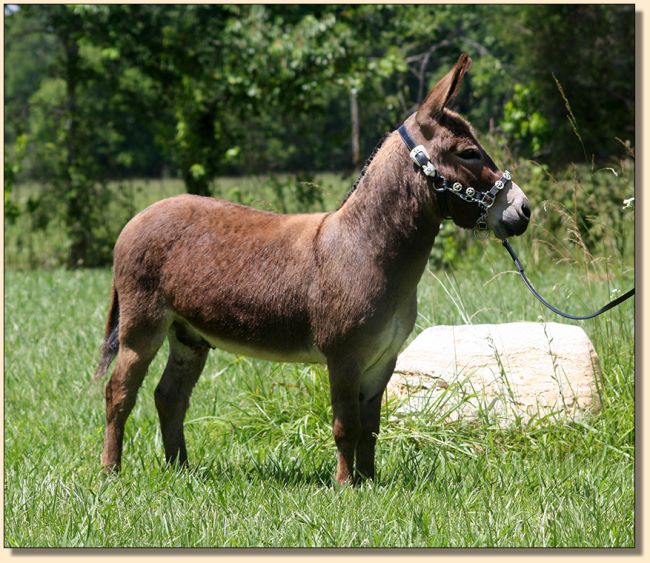 (Click photos to enlarge)





33 ½" Brown Gelding
DOB 5/30/14
ADR #Pending
Microchip ID#on file



Sire: Unknown

Dam: Unknown




We purchased Tank from a couple that sold their farm and were moving to a place that did not allow donkeys. They purchased him when he was just weaned for a friend for their other gelding that lost his best buddy due to an unknown illness. They both have just been pasture ornaments and pets their whole lives.

We had Tank gelded (castrated) by our vet on 5/30/17, and he has completely recovered. His previous owners could only remember that they purchased him in the fall of 2014 when he was weaned from his mom's side. Our vet checked his teeth and said that he just turned three years old so we guessed that his birthday was 5/30/14. As you can see by his photos and videos he is quite the tank and would make an impressive halter and performance gelding if someone wanted to take the time to train him. He is very willing and intelligent and likes to please.

His previous owners could not remember where they purchased him so I have no way of tracing down his pedigree. However he can be registered in the American Donkey Registry and we are sending his papers in this week. If he sells before I mail them in I will allow you to be the first person to register him and you can use your farm name as his prefix if you so desire.

Tank was vaccinated with Prestige V + West Nile on 5/25/17, and he was give a booster of the same on 6/26/17. This vaccination includes Eastern/Western Encephalitis, Tetanus, Rhino, Influenze and West Nile. He was vaccinated for Rabies on 6/07/17. He had his hooves last trimmed by a professional farrier on 5/25/17 but they will be trimmed again before he leaves for his new home. He was last de-wormed with Equimax on 7/12/17. He has a negative coggins report dated 5/30/17. We microchipped him when he arrived at our farm on 5/25/17 and we will be mailing his papers soon to have him registered in the American Donkey Registry. If you like to win blue ribbons in halter classes you should seriously consider Think Tank.

As always a big 'thank you' to my friend and partner, Katie Randall, for handling all the donkeys for their photos and videos. All of the profit from the sale of this donkey will be going towards the 'Katie wants a dream horse' fund!






Tank is happily living in Kentucky





We accept PayPal payments!
* Fast, free, and secure online payments!!!! *

Click on the 'PayPal' image to send us
a deposit to reserve your donkey now!
(3% will be added to the total if you are paying by Pay Pal)
*If you send us a payment through PayPal, use
our e-mail address of:
minidonks@united.net


Susan Watson at Tennessee Crossroads meets a Chapel
Hill couple whose farm is filled with diminutive donkeys.






Joe & Dayle Haworth
2359 Feedmill Road
Chapel Hill, Tennessee   37034
Barn Phone: 931-364-3715
Cell Phone: 615-504-4536

Web Page: http://www.miniaturedonkeys.net
Email:   minidonks@united.net


E-Mail Us About Miniature Donkeys


You are on our 'Donkeys For Sale' page now!
Last Updated August 12th, 2017
Web Design by Dayle Haworth
Copyright © 1995-2020 ~ HAA Miniature Donkeys ~ All Rights Reserved