Hand Painted 'n Heaven
Photos taken June 2007 after she was body clipped



Newborn Photos below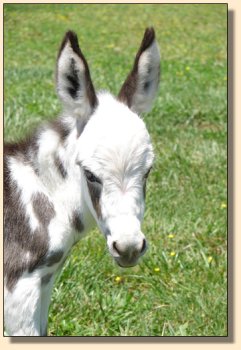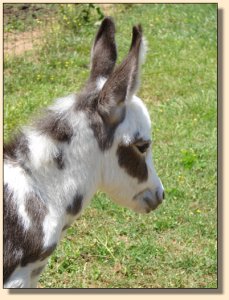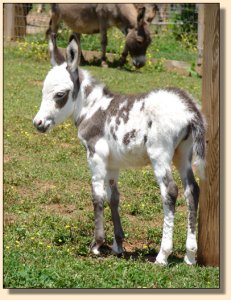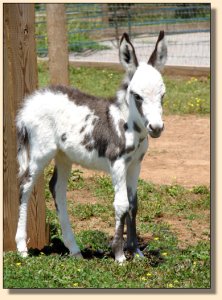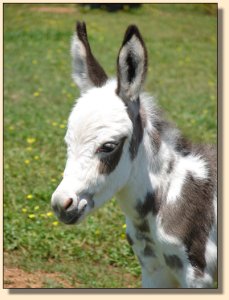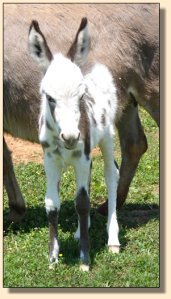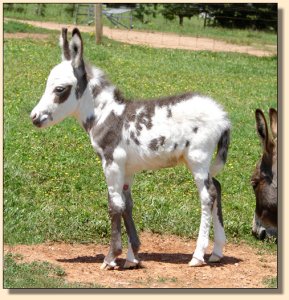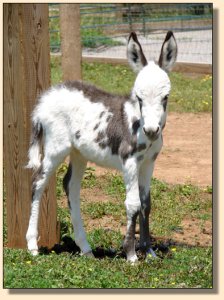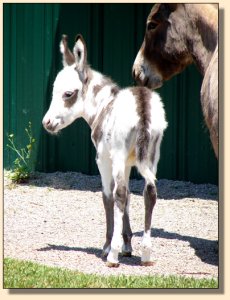 (Click photos to enlarge)
Gray-Brown & White Spotted Jennet
DOB 6/07/06 @ 11:40pm
Birth Height: 22¾"
MDR #46833
Microchip ID#470C53275C



Sire: Windcrest Comet's Fire & Ice, 28¾" Dk Brn/Wht Spot
Grand Sire: MGF Fiftyfire, 30½" Dark Red
Grand Dam: Windcrest Little Suzanna, 33¼" Dk Brn/Wht Spot

Dam: Moe Moe Acres Suzie Q, 34" Brown/Gray-Dun
Grand Sire: Fisher's Great Gildersleeve, 32¼" Tri-Colored Spot
Grand Dam: Elm Acres Iris, 32½" Gray-Dun



She's here...and hand painted from Heaven by Martha. Heaven is one of the prettiest spotted jennets I have ever seen. Very heavy boned with a super wide chest and rear. This baby has the legendary LCR Valintino 50th and The Fireman in her pedigree!! She has the best set of legs you could ever hope for...very straight..wide in-between...and heavy boned. Her spot pattern is striking and just flawless! A big thank you goes out to Butch & Sarah Nowlin at Moe Moe Acres for allowing Heaven's mom to come and live at Half Ass Acres. Purchasing Heaven's dam, Suzie, was one of the wisiest decisions we have made! It is hard to beat a good ole' tried and true gray-dun jennet as a spot producer. Heaven is the proof.






Click here to return to our 'foal' page!
Click here to return to the 'brood jennet's' page!


Joe & Dayle Haworth
2359 Feed Mill Road
Chapel Hill, Tennessee 37034
Barn Phone: 931-364-3715
Cell Phone: 615-504-4536

Web Page: http://www.miniaturedonkeys.net
Email: minidonks@united.net


E-Mail HAA Miniature Donkey Farm


You are on 'Heaven's page now!

Last Updated: June 8, 2006
Web Design by
Dayle Haworth
Copyright © 1998-2010 ~ Half Ass Acres ~ All Rights Reserved