(The same colors are available in Weanling & Newborn Halters)




More colors are pictured further below!



These are top of the line halters designed specifically to fit a miniature donkey's head. High quality brass plated fittings with a snap throat latch for easy grooming of your miniature donkey. Each halter also has a fully adjustable nose and head band with keepers & can be adjusted to fit most donkeys. (The weanling & newborn halters do not have a snap throat latch nor an adjustable nose band.)




Sizing:
(these measurements will work unless your donkey has an
unusually large head...so please measure before ordering!)

Adult Halters will adjust to fit most adult miniature donkeys over 1 year old.
Circumference of the nose will adjust from approx. 19" while in first hole to approx. 22" while in last hole.
Circumference from bottom of nose ring around crown to the bottom of the other nose ring will adjust from 27" to 30"


Yearling Halters will adjust to fit most donkeys from 6 months to 1 year of age.
Circumference of the nose will adjust from approx. 14" while in first hole to approx. 18" while in the last hole.
Circumference from bottom of nose ring around crown to the bottom of the other nose ring will adjust from 22" to 25"


Weanling Halters will fit most foals from 2 to 6 months.
Circumference of the nose is approx. 16"
Circumference from bottom of nose ring around crown to other bottom of nose ring will adjust from 20" to 22"
The check piece is 3" long


Newborn Halters will fit only newborns to approximately 2 months.
Circumference of the nose is approx. 13"
Circumference from bottom of nose ring around crown to other bottom of nose ring will adjust from 19" to 22"
The check piece is 2½" long



You can order by Pay Pal below or just send an email or call (615-504-4536) with your order. We try to ship within 24 hours after receiving payment. We accept Pay Pal or personal checks (checks must clear the bank before we ship your order unless you are a repeat customer). You can also pay by credit card through the Pay Pal system.


USPS Shipping Rates for
Halters shipped in the USA

| 1-2 halters | $6.25 |
| --- | --- |
| 3-7 halters | $9.00 |
| 8-15 halters | $14.00 |
| 16 halters & Up | Free Shipping! |
We ship by USPS. If you need your halters shipped by FedEx there may be additional charges that apply. We do not ship by UPS as we have no local pick up in our area. The post office went up on their prices in 2016!!

Due to all the problems we have encountered with customers in other countries ordering our halters and then backing out when they found out how much the shipping charges would be, we are no longer shipping anywhere but the lower 48 states. We will make an exception if you have previously ordered from us. Thank you for understanding that our time is very valuable to us.

Order Miniature Donkey Adult Halters


Order Miniature Donkey Yearling Halters


If you are having trouble combining orders just drop us an
email
or call (615-504-4536) with your order and we will send you a pay pal request for the total due including your shipping.
Adult or
Yearling
Black
Adult or
Yearling
Green
Adult or
Yearling
Red
Adult or
Yearling
Royal
Adult or
Yearling
Purple
Adult or
Yearling
Wine
Adult or
Yearling
Orange
Adult or
Yearling
Brown
Adult or
Yearling
Turquoise
Adult or
Yearling
Fluorescent
Green
Adult or
Yearling
Yellow
Adult or
Yearling
Hot Pink
(Click individual photos for a larger version)

Two more colors (not shown):
Rose Pink (a very soft baby pink) and Navy (deeper/darker than Royal).
---
All Colors Above are Available for Weanling & Newborn Miniature Donkey Halters too! The Newborn will only fit a very recent newborn and the weanling will fit a newborn from one month to possibly weaning age unless your donkey has an unusually large head but I would order a yearling to insure that it will fit and be useful for a longer period of time.)


(The weanling and newborn halters do not have a snap throat latch nor an adjustable nose band.)
Order Miniature Donkey Weanling Halters


Order Miniature Donkey Newborn Halters


Weanling
or
Newborn
Black
Weanling
or
Newborn
Royal
Weanling
or
Newborn
Green
Weanling
or
Newborn
Red
Weanling
or
Newborn
Purple
Weanling
or
Newborn
Hot Pink
Additional colors available but not shown are:
Flourescent Green, Orange, Brown, Yellow,
Navy, Turquoise, Rose Pink and Wine!!


(Click individual photos for a larger version)
Another satisfied customer, Mel, giving us the stink eye and modeling the newborn halter in wine. This is the smallest halter that we carry and you can see that it has plenty of room to be let out as he grows..but remember...this halter will only fit a newborn for a couple of months as they grow quickly.

"We love your halters, your quick service and the great quality! Mel is 2 weeks old now. The halter size is newborn. I just ordered the weanling from you guys in royal for his next halter. I got it in the mail yesterday. I love your halters! I am sure that as he grows, I will order another halter. (Note: The next size up after a weanling will be a yearling) Mel is named after my best friend, Melissa, who passed away from breast cancer on Dec 15th. Everyone called her Mel."



~ Ellen Isley, Snow Camp, North Carolina
---



Now offering embroidering on halters!!! 14 letters or spaces for an additonal $15!! Please allow a week to 10 days to fill orders if you desire embroidering on your halters. Please specify thread color as well as color of halter. Drop us an email if you would like embroidering on your halter or send an extra $15 to the following link:



paypal.me/HalfAssAcres/15



Please...do NOT have your halters embroidered if you have any doubts about the halter fitting your donkey!


Marlene and Inez are proudly owned by Molly Ginna of Riverhead, New York!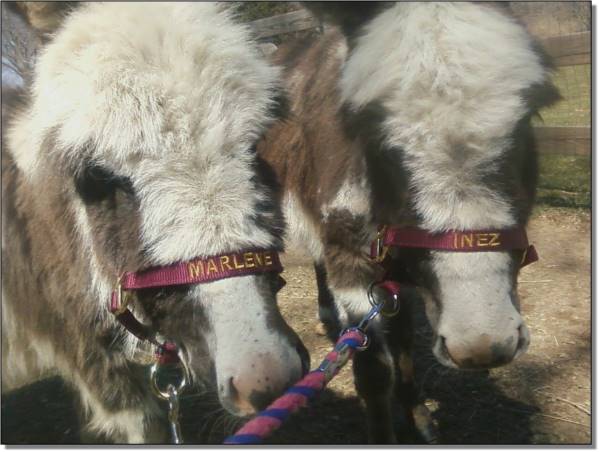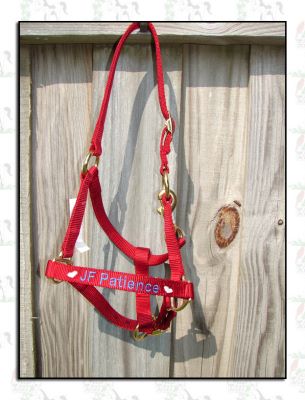 ---
Ass Kickin' Halters by Dena Wilson. Finally, an outlet for my creativity! Below are a few examples of my "For Sale" custom blinged nylon halters. I will be happy to customize any of the halters above with conchos created to your specifications for you and your donkey. Please allow two to three weeks as each concho is individually handset with Swarovski crystals. You can allow me to chose your colors or you can request your own custom designs and colors. Contact me, Dena Wilson, for more details at 615-390-2277 or email me to request your customized colors.

Adult Turquoise

Adult Black

Adult Wine

$80.00

$80.00

$80.00

Adult Brown

Adult Green

Adult Purple

$80.00

$80.00

$80.00

Adult Red

Adult Royal

$80.00

$80.00

Yearling
Fluorescent Green

Weanling Black

$75.00

$70.00

Adult Royal

Adult Royal

Modeled by Flight of Fancy Sheila.

$80.00

Close up of the Black Weanling
(Click individual photos for a larger version)


Send Checks to:

Dayle Haworth or Half Ass Acres
2359 Feedmill Road
Chapel Hill, Tennessee 37034

Email: minidonks@united.net




E-Mail HAA Miniature Donkey Farm

Last Updated: April 22nd, 2016
Web Design by Dayle Haworth
Copyright © 1995-2020 ~ HAA Miniature Donkeys ~ All Rights Reserved